Full Text
A 3-month-old boy that underwent colostomy at 12 h post birth in another hospital for an anorectal malformation (ARM) presented with a perineal cutaneous finger-shaped appendage (3 mm long, 1 mm diameter). Sometimes, after mucous fistula irrigations, traces of mucus appeared in the diaper. Perineal ultrasound confirmed that the rectum was 3 mm from the perineal skin, with no evidence of fistulas on the colostogram (Fig. 1A).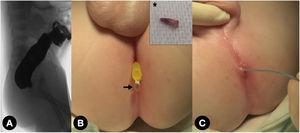 Figure 1.
(A) Colostogram showing the rectal pouch without any fistulas, probably due to insufficient pressure during its performance. (B) Resected finger-shaped skin appendage (*) and appearance of a drop of liquid under its original location after distal stoma irrigation (arrow). (C) Pore intubated with a dilation balloon catheter.
(0.13MB).
The distal stoma was irrigated under pressure and a drop of fluid issued from the cutaneous appendage through a submillimetre pore underneath it (Fig. 1B, C). Electrostimulation showed that this opening was at the centre of the sphincter complex. Hence, treatment was limited to dilatation and four cardinal sutures with progressive anal dilations, starting with 8 mm Hegar dilators and increasing the size until an anal calibre of 14 mm was achieved, upon which the colostomy was closed at age 7 months (Fig. 2A–C, Supplementary Video 1). At 20 months of age, the patient has bowel control and no difficulty passing stools.
Anorectal malformations may be associated with cutaneous stigmas that are clinically and therapeutically relevant.1 A thorough physical examination is essential to select the most appropriate treatment,2 as in some cases a primary repair without colostomy or anorectoplasty can be performed in the neonatal period.3 Therefore, it is paramount not to rush to perform a colostomy, waiting at least 24–48 h after birth, to avoid iatrogenesis.
Funding sources
None to declare
References
[1]
C. Wang, L. Li, W. Cheng.
Anorectal malformation: the etiological factors.
Pediatr Surg Int, 31 (2015), pp. 795-804
[2]
M.D. Rollins, K. Russell, K. Schall, S. Zobell, R.F. Castillo, L. Eldridge, et al.
Complete VACTERL evaluation is needed in newborns with rectoperineal fistula.
J Pediatr Surg, 49 (2014), pp. 95-98
[3]
D.R. Halleran, A. Vilanova, R.M. Rentea, H. Ahmad, L. Weaver, C. Reck, et al.
Assessment of the Heineke-Mikulicz anoplasty for skin level postoperative anal strictures and congenital anal stenosis.
J Pediatr Surg, 54 (2019), pp. 118-122
Copyright © 2022. Asociación Española de Pediatría