Full Text
Dear Editor:
Percutaneous closure of percutaneous ostium secundum atrial septal defect or patent ductus arteriosus with devices containing nickel has become common practice due to its safety and effectiveness.1,2 However, given that up to 15% of the general population may be allergic to nickel,3,4 it would be prudent to adopt approaches that minimise the contact of nickel with blood to prevent potential systemic hypersensitivity reactions. We now proceed to describe a successful experience with closure of patent ductus arteriosus (PDA) and atrial septal defect (ASD) with Occlutech™ devices in 2 patients with known nickel allergy. These devices have a thin coating of titanium oxide that reduces blood exposure to nickel and could be an appropriate and safe alternative for intervention in patients with nickel allergy.
The patients were a girl aged 10 years with patent ductus arteriosus and a girl aged 8 years with ostium secundum ASD. The families reported an allergic skin reaction to costume jewellery, so the patients underwent epicutaneous tests to rule out nickel allergy, with positive results in both cases. Two months before interventional heart catheterization, each of the patients was tested for nickel allergy by placement of different percutaneous vascular closure devices on the anterior thorax and the abdomen (Fig. 1a), affixed to the skin with Mefix adhesive dressing tape (Fig. 1b). The patient with PDA was tested with the Amplatzer Septal Occluder (ASO™) and the Occlutech PDA Occluder™, while the patient with ASD was tested with the ASO™, the Gore Septal Occluder™, the Figulla ASD Occluder™ and the Cardia Ultrasept™. Neither patient developed cutaneous or systemic reactions in 72h of exposure.
Figure 1.
(a) Photograph of the anterior region of the thorax and the abdomen demonstrating the lack of cutaneous reactions after contact with different percutaneous ASD closure devices: Amplatzer Septal Occluder (top left); Figulla ASD Occluder (top right); Cardia Ultrasept (bottom left) and Gore Septal Occluder (bottom right). (b) Photograph illustrating the method used to affix the devices to the skin.
(0.14MB).
The devices used for percutaneous closure of PDA and ASD were the Occlutech PDA Occluder™ 3.5/5 (Occlutech International AB; Helsingborg, Sweden) and the Figulla Flex II ASD Occluder™ 16.5mm (FFO, Occlutech GmbH; Jena, Germany), respectively, both of which were implanted without complications (Fig. 2).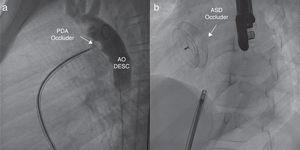 Figure 2.
(a) Right anterior oblique angiogram showing the Occlutech PDA occluder (arrow). The contrast infused from the descending aorta evinces the absence of a residual shunt through the patent ductus arteriosus. AO DESC: descending aorta. (b) Anteroposterior fluoroscopy view that shows the ASD closure device, the Figulla ASD Occluder (arrow), after its release.
(0.2MB).
Both devices are self-expanding and made of nitinol (an alloy of 55% nickel and 45% titanium), which confers pseudoelasticity and shape memory. They are also coated with a thin layer of titanium oxide that reduces exposure to nickel. Both patients remained asymptomatic 3 years after the procedure.
In current clinical practice, most patients that are allergic to nickel with intracardiac or extracardiac shunts are treated with devices that contain nickel.3 However, a potential inflammatory response to the nitinol contained in the device could cause platelet aggregates or the secretion of inflammatory mediators that could then be distributed through the body by the systemic circulation.1,2 Although most patients remain asymptomatic after percutaneous closure of the defect, clinical manifestations of nickel allergy may develop immediately or months later. The clinical presentation is heterogeneous, and may range from a simple skin rash, fever, migraine, difficulty breathing or chest pain to massive pericardial bleeding with cardiac tamponade.1–4 The symptoms may resolve spontaneously or require steroid therapy, and in some cases the device ultimately needs to be removed.2,5
Nickel allergy can be assessed before percutaneous closure by means of epicutaneous tests.2 In case of positive results with a local skin reaction, closure should be performed with devices with a lower nickel content or designed to reduce exposure to nickel.3 Although the patients whose cases we describe here had positive epicutaneous test results for nickel allergy, neither developed cutaneous reactions to the devices.
The current literature shows disagreement as to the appropriate approach to a patient allergic to nickel that requires a percutaneous closure device containing nitinol. While some authors consider that it is important to take the allergy into account before planning percutaneous closure with nickel-containing devices, others believe that this is a minor issue.6
To date, different approaches have been proposed in case of suspected nickel allergy. Some authors have mentioned Helex devices as a good alternative, as they contain a minimal amount of exposed nickel.4 Lertsapcharoen et al. have described a self-expanding nitinol device coated in platinum for percutaneous ASD closure.6 Cammalleri et al. reported the successful use of the Atriasept II, a device with a lower content of nitinol compared to most other devices, for closure of patent ductus arteriosus in 4 patients with severe nickel allergy.3
It would be reasonable to rule out nickel allergy before percutaneous implantation of devices containing this material to prevent a potential systemic hypersensitivity reaction. In patients with nickel allergy, testing by direct contact of the skin with the percutaneous devices under consideration to detect skin or systemic reactions and to guide the selection of the device that will be ultimately implanted can be useful. In our opinion, devices with a smaller nickel content or reduced exposure to nickel should be selected in case of known nickel allergy. In this context, Occlutech™ devices, which are coated with a thin layer of titanium oxide, have proven effective and safe.
Please cite this article as: Figueras-Coll M, Sabaté-Rotés A, Martí-Aguasca G, Roguera-Sopena M, Betrián-Blasco P. Cierre percutáneo de shunts en pacientes alérgicos al níquel. An Pediatr (Barc). 2020;92:102–104.
Copyright © 2020. Asociación Española de Pediatría