Received 01 February 2022. Accepted 12 April 2022
Full Text
A patient aged 8 years sought care for a lesion in the right cheek with onset 4 months prior and no history of insect bite. The followup by the paediatrician was carried out by telephone on account of the restrictions to in-person care placed during the COVID-19 pandemic. Initially, the suspected diagnosis was folliculitis associated with mask use, for which the neologism maskne has been coined.
Successive treatment with topical antibiotics (clindamycin and mupirocin) and an oral antibiotic (cefadroxil) achieved no improvement, and the lesion continued to grow. The patient presented with a plaque measuring about 3 × 3 cm in the malar region, elastic and eroded on the surface (Fig. 1). A polymerase chain reaction test for detection of Leishmania on skin scrapings was negative. Examination of a biopsy specimen led to histological diagnosis of cutaneous CD4+ small/medium T-cell lymphoproliferative disorder (CSMLPD) (Fig. 2). The patient received topical treatment with clobetasol propionate, with improvement of the lesion at 1 month of treatment (Fig. 3).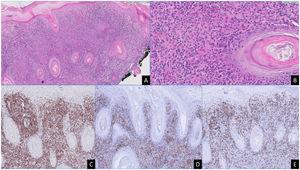 Figure 2.
Histology of cutaneous CD4+ small/medium T-cell lymphoproliferative disorder. (A) Dense lymphocytic infiltrate in the superficial and deep dermis (haematoxylin and eosin stain [H&E]  × 100). (B) At higher magnification, lymphocytes showing moderate atypia in the perifollicular zone (H&E × 400). The lymphoid infiltrate was positive for CD3 (C) and CD4 (D) markers, accompanied by a minority of CD8 cells (E) (C–E: × 400).
(0.8MB).
Cutaneous CD4+ small/medium T-cell lymphoproliferative disorder is a primary cutaneous lymphoma provisionally classified as a proliferative disorder to emphasize its benign course and discourage aggressive systemic treatment.1 The differential diagnosis includes other cutaneous T and B cell lymphomas, reactive lymphoproliferative disorders, pseudolymphoma and lupus erythematosus tumidus.2 Treatment options include surgery, topical or intralesional steroids and phototherapy.1
The prolonged use of masks during the COVID-19 pandemic has been associated with the development and worsening of facial dermatoses.3 Their increased prevalence and the widespread use of the term maskne may obscure and result in underdiagnosis of other, more complex3 or infrequent disorders. An appropriate differential diagnosis must be carried out, as not everything is maskne.
References
[1]
P. Surmanowicz, S. Doherty, A. Sivanand, N. Parvinnejad, J. Deschenes, M. Schneider, et al.
The clinical spectrum of primary cutaneous CD4+ small/medium-sized pleomorphic T-cell lymphoproliferative disorder: an updated systematic literature review and case series.
Dermatology., 237 (2021), pp. 618-628
[2]
S. Ponce, Y. Peñate, T. Montenegro.
Trastorno linfoproliferativo primario de células T pleomórficas pequeñas/medianas CD4+ coincidente en dos hermanas.
Actas Dermosifiliogr, 111 (2020), pp. 271-273
[3]
E. Rudd, S. Walsh.
Mask related acne ("maskne") and other facial dermatoses.
Copyright © 2022. Asociación Española de Pediatría