Received 25 January 2022. Accepted 08 March 2022
Full Text
Vascular malformations constitute a broad spectrum of disorders caused by the abnormal development of blood vessels. Capillary malformations (CMs) are the most frequent type of vascular anomalies and affect up to 0.3% of the population.
We present the case of a boy aged 8 months referred to us on account of a CM of the lower lip, lymphatic malformation (LM), asymmetry in the right side of the face (Fig. 1A) and overgrowth of the first toe in both feet with bilateral sandal gap deformity (Fig. 1B and C). A PIK3CA-related overgrowth spectrum (PROS) syndrome was suspected, prompting performance of a brain magnetic resonance scan that ruled out central nervous system involvement and leading to diagnosis of CLAPO syndrome.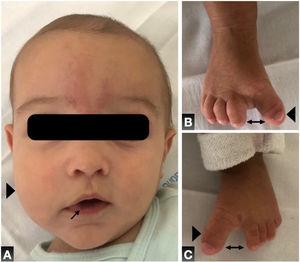 Figure 1.
A) Capillary malformation between the brows and in the lower lip (arrow) with right facial asymmetry (arrowhead). Overgrowth of the first toe of the feet (arrowhead) with bilateral sandal gap (double-headed arrow): B) right foot, C) left foot. Phenotype compatible with CLAPO syndrome.
(0.31MB).
CLAPO syndrome is characterised by capillary vascular malformation of the lower lip, lymphatic malformations of the head and neck, asymmetry and partial/generalized overgrowth1. It is a sporadic disorder associated with somatic changes in the PIK3CA gene and other PROS syndromes, such as megalencephaly-capillary malformation syndrome (MCAP), which explains the overlap of the phenotypes of these two syndromes2. The CM of the lower lip is characteristic of CLAPO syndrome, so in the case of a CM in the gums or lower lip, it is important to monitor the patient for the development of a LM or overgrowth, while in the case of a CM of the upper lip, MCAP syndrome should be suspected and neurological involvement must be ruled out. In this sense, CMs are important findings that, based on their location, may guide the differential diagnosis with other underlying anomalies or syndromes.
Funding
This research did not receive any external funding.
Conflicts of interest
The authors have no conflicts of interest to declare.
References
[1]
J.C. López-Gutiérrez, P. Lapunzina.
Capillary malformation of the lower lip, lymphatic malformation of the face and neck, asymmetry and partial/generalized overgrowth (CLAPO): report of six cases of a new syndrome/association.
Am J Med Genet A, 146A (2008), pp. 2583-2588
[2]
L. Rodriguez-Laguna, K. Ibañez, G. Gordo, S. Garcia-Minaur, F. Santos-Simarro, N. Agra, et al.
CLAPO syndrome: identification of somatic activating PIK3CA mutations and delineation of the natural history and phenotype.
Genet Med, 20 (2018), pp. 882-889
Copyright © 2022. Asociación Española de Pediatría