Full Text
We present the case of a male infant aged 38 weeks with a cystic umbilical cord (Fig. 1A). At 15 days post birth, after the cord stump fell off, an umbilical granuloma became visible that issued a yellowish fluid, found to be urine after performance of urinalysis (Fig. 1B); a patent urachus was suspected, and an abdominal ultrasound scan ordered in which no abnormalities were identified. The fistula was examined by means of a voiding cystourethrogram, confirming the patent urachus (Fig. 1C). At 23 days post birth, a urachal remnant measuring 1.5 cm that extended to the bladder dome was excised through an infraumbilical incision, followed by cystorrhaphy and umbilicoplasty (Fig. 2). The histological examination of the specimen found transitional epithelium, granulation and smooth muscle tissues. The patient had a favourable outcome and was discharged 4 days after the surgery.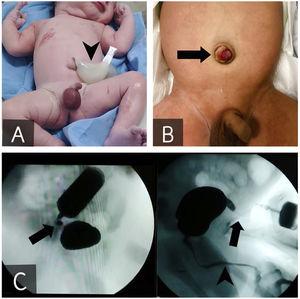 Figure 1.
Umbilical cord with a large cyst measuring 7 × 4.5 cm (A, arrowhead) and umbilical granuloma exuding a yellowish fluid after the cord stump fell off (B, arrow). The fistulogram confirmed the presence of patent urachus (C, arrow) in absence of urethral anomalies (C, arrowhead). The upper and lateral portions of the latter image feature a radiolucent tubular structure, corresponding to the syringe used to inject the contrast agent.
(0.17MB).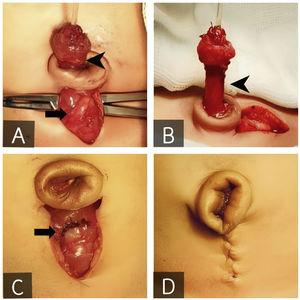 Figure 2.
Infraumbilical incision and dissection of the entire length of the urachus (A, arrowhead) extending to the bladder dome (A, arrow). Excision of the patent portion of the urachus (B, arrowhead), three-layer repair of the bladder dome (C, arrow) and cosmetic outcome of the umbilicoplasty (D).
(0.18MB).
Cases of patent urachus associated with umbilical cord cysts are rare. The hypothesis of urinary reflux through the patent urachus with cystic dilation of Wharton's jelly was proposed 40 years back, and few cases have been described since.1 The differential diagnosis of fluid discharge from the umbilicus and umbilical granuloma must include urachal anomalies, especially if preceded by manifestations such as umbilical cord cyst.2 Although spontaneous urachal obliteration in the first 6–12 months of life has been described in cases with large urachal remnants and a history of cystic umbilical cord, suggestive of significant urinary reflux (as was the case of this patient), we recommend surgical repair as the preferred approach to lower the risk of infection, acute abdomen and, while rare, malignant transformation in the long term.3
Funding
This research did not receive any external funding.
References
[1]
S. Young, A. McGeechan, P. Davidson, A. Deshpande.
Management of the giant umbilical cord: challenging the need for investigations in the newborn.
Arch Dis Child Fetal Neonatal Ed, 101 (2016), pp. F538-F539
[2]
C.C. Lin, C.B. Huang, J.C. Su, Y.K. Chou, K.L. Chiang.
Umbilical cord cyst with patent urachus presenting as a urine jet from the umbilicus: a case report.
Pediatr Neonatol, 63 (2022), pp. 105-106
[3]
M.E. Carazo, L. Rodríguez, R. Llorens, B. Pemartín, C. Gutiérrez.
Are you sure that it is a granuloma?.
An Pediatr (Barc), 83 (2015), pp. 358-359
Copyright © 2023. Asociación Española de Pediatría