Full Text
In this article, the Editorial Committee of Anales de Pediatría highlights the most salient aspects related to the journal in the past year. At the time of this writing, it has been 12 months since the coronavirus disease caused by SARS-CoV-2 (COVID-19) has changed the world. This pandemic has had a significant impact on the day-to-day activity of our journal, as we will explain below.
When it came to manuscript processing, we experienced a sharp increase in the number of submissions, which entailed a corresponding increase in the number of rejections. The visibility of the journal, which we believed would plateau after the spectacular increase in 2019,1 continues its upward trend with an increase in the total number of visits from 7 million in 2019 to nearly 8.4 million in 2020. The impact factor merits detailed discussion. The number of citations received by Anales de Pediatría is going to reach a maximum in 2020 that the impact factor may not reflect clearly due to modifications in the way it is to be calculated that are outside the control of the Editorial Committee.
COVID-19 and

Anales de Pediatría
The irruption of COVID-19 forced the Editorial Committee to adapt to the need of paediatricians to receive immediate and updated information. As we remarked in an editorial on the subject,2 we had to establish a specific protocol for the management of submitted manuscripts related to COVID-19 to try to shorten reviewing and editorial times as much as possible to be able to publish them quickly. This entailed a risk of accepting less rigorous manuscripts with information that was not checked as thoroughly, as has been the case in other journals. During this year of the pandemic, we published 40 articles on COVID-19, corresponding to approximately 20% of the total published. In addition to their inclusion in the monthly issues of the journal, all of them can be found in the "COVID-19 articles" special section of the Anales de Pediatría website. There are also 6 consensus documents published in the "Special content about COVID-19" section of the website, endorsed by the Asociación Española de Pediatría (Spanish Association of Paediatrics, AEP)3 and several of its affiliated Societies and Committees, which have been updated periodically. The number of visits to these articles has been very high, and 3 of them are among the 4 most-read articles in the past 3 years.4–6
In the past few months, the large number of manuscripts that we have received, many of them with redundant information that had bene published previously, forced us to be very strict in their assessment.
Manuscript processing
As can be seen in Fig. 1, in year 2020 there was a substantial increase in the number of submitted manuscripts, which for the first time exceeded 1000. The distribution by type of manuscript was similar to the distribution in recent years (Fig. 2). The acceptance rate remained stable at around 20%, which means that the total number of accepted manuscripts has increased to 250 (Fig. 1). Scientific letters and letters to the editor account for most of this increase, as these two types of manuscript allow quicker processing of the content. When it came to original articles (Fig. 3), we found that the increase in submissions from 310 to 484 was associated with a corresponding decrease in the acceptance rate to 10%, which may be the lowest in the history of Anales de Pediatría. Fig. 4 presents the response time of the Editorial Committee. Due to the need to expedite decisions about manuscripts related to COVID-19 as much as possible, there was a decrease in the response time, which was the shortest in recent years (Fig. 4). We tried to be particularly quick in notifying authors of rejections to allow them to submit their manuscripts to other journals before the information became obsolete. There was no change in the time elapsed from acceptance to publication of the manuscript (Fig. 5).
Visibility of

Anales de Pediatría
Due to the substantial increase in visibility achieved in 2019,1 we expected it to plateau in 2020. Instead, the number of visits has continued to increase significantly, which fulfils the main mission of the journal, which is to convey scientific information to the largest possible number of readers. We found increases in the visits made through the Anales de Pediatría website (Fig. 6) and through Science Direct (Fig. 7), by approximately one million and half a million, respectively. Thus, the total number of visits increased by nearly 1.5 million to approximately 8.4 million visits (Fig. 8). Our readers continue to respond very favourably to the most-read article section of the Anales de Pediatría website and being able to see the number of visits previously made to the article they are consulting.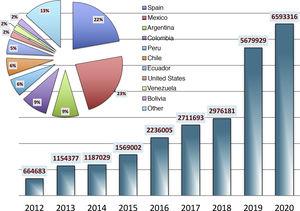 Figure 6.
Visibility of Anales de Pediatría: number of visits to the site (www.analesdepediatria.org) (years 2012–2020). The percentage distribution by country was: Mexico 23%, Spain 22%, Argentina 9%, Colombia 9%, Peru 6%, Chile 6%, Ecuador 5%, United States 2%, Bolivia 2%, Venezuela 2%, other 13%.
(0.27MB).
Impact factor
Our current estimates of the number of citations made in 2020 are promising, amply exceeding the 214 citations achieved in 2019. However, the expected changes in the formula used to calculate the impact factor announced in December 2020 and the ambiguity of citation metrics may have a negative effect on the calculated impact factor. The estimate obtained for 2020 using Elsevier's Cite Score is also positive, as it shows an increase in the citations made between 2017 and 2020 to 824 from 692 between 2016 and 2019.
Reviewers
Table 1 lists the 412 reviewers that collaborated with Anales de Pediatría in 2020. As we do every year, we thank them for their altruistic work, which is all the more important at a time when we are forced to reject a greater number of manuscripts.
Table 1.
Professionals that have collaborated as peer reviewers with Anales de Pediatría. The names of professionals that reviewed more than 3 articles are presented in boldface.
Abadías Granado

 

Isabel

 
Adán Lanceta 
Víctor 
Aguar 
Marta 
Aguilar Salmerón 
Raquel 
Aguilera López 
Patricia 

Aguilera Albesa

 

Sergio

 
Aguirreunceta Barrenechea 
Ana 
Alarcón Alacio 
María Teresa 
Alarcón Martínez 
Helena 

Albañil

 

Rosa

 
Alcalá Minagorre 
Pedro J. 
Alcaraz 
Andrés José 

Alcobendas

 

Rosa

 
Alcón 
José Juan 
Alegre 
Víctor 

Alejandre

 

Carme

 

Alfayate Miguélez

 

Santiago

 
Alfonso Farnos 
Iciar 

Allue

 

Xavier

 
Almécija 
Ara C. 
Almerich 
José M. 
Alonso 
Verónica 
Alonso 
Noelia 
Alonso 
María Teresa 
Alonso 
María Agustina 
Alonso 
Ana Isabel 
Alonso Calderón 
José Lorenzo 
Álvarez Álvarez 
Ignacio 
Álvarez Muñoz 
Víctor 
Álvarez Pitti 
Julio 
Amparo 
Sanchís 
Andrés 
Ana Gloria 
Andrés Llano 
Jesús María 
Angulo 
José María 
Antón Gamero 
Montserrat 
Aparicio López 
Cristina 
Apaz 
María Teresa 
Aragonés 
Nuria 
Aranceta Bartrina 
Javier 
Ares 
Susana 
Arias Llorente 
Rosa Patricia 

Ariza Jiménez

 

Ana Belén

 

Arnaez

 

Juan

 
Arrabal Vela 
María Auxiliadora 
Arriola Pereda 
Gema 
Arroyo Carrera 
Ignacio 
Arteaga 
Alejandro 
Artigas Pallares 
Josep 
Asensio de la Cruz 
Óscar 

Astigarraga

 

Itziar

 

Ávila Álvarez

 

Alejandro

 
Ayala Curiel 
Javier 
Azkunaga 
Beatriz 
Badell 
Isabel 
Balaguer 
Mónica 

Balaguer

 

Albert

 
Banus Gasol 
Ester 
Baquero Artigao 
Fernando 
Barcala Furelos 
Roberto 
Baro 
María 
Barrio Castellanos 
Raquel 
Baselga 
Eulalia 
Bella 
Mónica Edith 
Benito Fernández 
Javier 
Berrueco 
Rubén 
Betancourth 
Josué Eduardo 
Betlloch 
Isabel 
Blanco Quirós 
Alfredo 

Blasco Alonso

 

Javier

 
Blázquez 
Daniel 
Bordel Gómez 
María Teresa 
Bosch Alcaraz 
Alejandro 
Botet 
Francesc 

Bousoño García

 

Carlos

 

Brandstrup

 

Kay Boris

 
Bravo Acuña 
Juan 
Bretón 
José-Rafael 
Broto Mangues 
Jesús 
Bueno 
María Mercedes 
Burillo Putze 
Guillermo 
Bustos Lozano 
Gerardo 
Cabero Pérez 
María Jesús 
Calle Miguel 
Laura 

Calvo

 

Javier

 

Calvo Aguilar

 

María José

 
Camacho Lovillo 
Marisol 
Cambra Lasaosa 
Francisco José 
Cammarata Scalisi 
Francisco 
Campos Domínguez 
Minia 
Canal Bedia 
Ricardo 
Cancho Candela 
Ramón 

Cano Garcinuño

 

Alfredo

 
Cara Fuentes 
Gabriel M. 
Cárceles Álvarez 
Alberto 
Caridad 
Tapia Collados 
Carmena 
David 
Carrasco 
José 
Carrasco Carrasco 
Cristina 

Carrillo

 

Ángel

 

Carvajal Urueña

 

Ignacio

 
Casano 
Paula 
Casas 
Ester 
Castillo Salinas 
Félix 
Castro 
Alejandro 
Cavero Carbonell 
Clara 
Cernada 
María 

Chueca Guindulain

 

María J.

 
Cilleruelo Ortega 
María José 

Cilleruelo Pascual

 

María Luz

 
Civantos 
Eva 
Claret Teruel 
Gemma 
Clemente 
María 

Climent Alcalá

 

Francisco José

 
Codoñer Franch 
Pilar 
Concha Torre 
Andrés 
Conde Barreiro 
Santiago 
Conejo Fernández 
Antonio José 
Consuegra Llapur 
Eduardo 
Corripio 
Raquel 

Costa Romero

 

Marta

 
Couce 
María Luz 

Crespo Marcos

 

David

 
Crespo Sedano 
Andrea 

Croche Santander

 

Borja

 
Cruz Len 
Juan 
Cruz Martínez 
Ofelia 
Cubero Santos 
Ana 
De Arriba 
Antonio 
De Carlos Vicente 
Juan Carlos 

De Dios González

 

Javier

 

De la Cerda

 

Francisco

 
De Lucas Collantes 
Carmen 

De Murcia Lemauviel

 

Sara

 
Del Castillo 
Jimena 
Del Llano Señaris 
Juan 
Del Moral 
Teresa 
Del Rosal 
Teresa 
Delgado/Pecellín 
Isabel 
Demestre 
Xavier 
Díaz Conradi 
Álvaro 
Díaz García 
Elena 

Díaz Martín

 

Juan José

 
Díaz Gómez 
N. Marta 

Díez López

 

Ignacio

 
Díez Domingo 
Javier 
Donat 
Ester 
Elorza 
Dolores 
Escobosa Sánchez 
Om 
Escribano Ceruelo 
Eva 
Escribano García 
Carla 
Escribano Montaner 
Amparo 
Espiau 
María 
Espin Jaime 
Beatriz 
Espino Hernández 
Mar 

Fernández Delgado

 

Rafael

 
Fernández 
Ana Luisa 
Fernández Colomer 
Belén 
Fernández Cuesta 
Luis Miguel 
Fernández Escribano 
Angustias 
Fernández Fernández 
Marta 
Fernández González 
Nuria 
Fernández Menéndez 
José Manuel 
Fernández Montes 
Reyes 
Fernández Cantalejo 
José 
Fernández Ibieta 
María 
Fernández Teijeiro 
Ana 

Ferrando Monleón

 

Susana

 
Ferrer 
Pablo 
Ferrer Lozano 
Marta 

Figueras Aloy

 

Josep

 
Figuerola 
Joan 
Flores González 
José Carlos 
Fortuny 
Claudia 
Gaboli 
Mirella Piera 

García

 

Juan A.

 
García Castillo 
Sergio 
García Hernández 
Irene 
García López Hortelano 
Milagros 
García Puga 
José Manuel 
García Teresa 
María de los Ángeles 
García Vera 
César 

García Alix

 

Alfredo

 
García Cuartero 
Beatriz 
García Iñiguez 
Juan Pablo 

García Muñoz Rodrigo

 

Fermín

 

García Salido

 

Alberto

 
Gardovska 
Dace 
Garrido Redondo 
Mercedes 

Gil Campos

 

Mercedes

 

Gimeno Sánchez

 

Isabel

 

Gómez

 

Borja

 
Gómez Baya 
Diego 
Gómez Cabrera 
Cristina 

Gómez Fraile

 

Andrés

 

Gómez Guzmán

 

Elena

 
Gómez Huelgas 
Ricardo 
Gómez Sánchez 
Esteban 
Gómez Veiras 
Javier Ricardo 
González 
Soledad 
González 
Rafael 
González 
M. Teresa 

González Casado

 

Isabel

 
González García 
Hermenegildo 
González Jiménez 
David 
González Lamuño 
Domingo 
González Marín 
María Arántzazu 
González Martín 
Leticia María 
González Rodríguez 
Liliana Guadalupe 
González Sánchez 
Susana 
González Viejo 
Inmaculada 
González Delgado 
Víctor 
Gracia Romero 
Jesús 
Granados Ruiz 
Miguel Ángel 
Grau 
Gema 
Guerrero Aznar 
María Dolores 
Guix Comellas 
Eva María 
Gutiérrez 
Ramón 
Gutiérrez Sánchez 
Estanislao 
Hedrera Fernández 
Antonio 
Hernández Borges 
Ángel Antonio 
Hernández Crespo 
María Teresa 
Hernández Aguilar 
María-Teresa 
Herrero Morín 
José David 
Hidalgo Vicario 
Inés 
Hinojosa 
Joaquín Ernesto 
Huidobro 
Belén 
Huidobro 
Beatriz 
Ibarra 
Ignacio 
Iriondo 
Martín 
Jaraba Caballero 
María del Pilar 
Jaramillo Mejía 
Marta C. 
Jiménez 
José 
Jiménez Gómez 
Jesús 
La Orden Izquierdo 
Enrique 

Labarta Aizpun

 

José I.

 
Lanzarote Fernández 
María Dolores 
Lapunzina 
Pablo 
Leis 
Rosaura 
Lizama 
Macarena 
López 
Juan 
López Neyra 
Alejandro 
López Pisón 
Javier 
López Herce 
Jesús 
López Laso 
Eduardo 

López Villalobos

 

José-Antonio

 

Lozano Díaz

 

David

 
Luaces Cubells 
Carles 
Lucendo 
Alfredo J. 
Lumbreras Fernández 
Javier 
Lurbe 
Empar 
Machimbarrena 
Juan Manuel 
Madariaga 
Leire 
Madrid Iris 
Álvaro 
Magdaleno Tapial 
Jorge 
Manrique Martínez 
Ignacio 

Marín Urueña

 

Sara

 
Martí 
Itxaso 
Martín Ancel 
Ana 
Martin de Carpi 
Javier 
Martín Calama Valero 
Jesús 
Martínez 
María Teresa 
Martínez González 
Carmen 
Martínez Roca 
Cristina 

Martínez Sánchez

 

Lidia

 
Martínez Lage 
Juan F. 
Martínez Sánchez 
José M. 
Martino Alba 
Ricardo 

Martos Moreno

 

Gabriel Ángel

 
Marugán Miguelsanz 
José Manuel 

Mayordomo Colunga

 

Juan

 
Meavilla Olivas 
Silvia 
Medina 
Alberto 
Medrano López 
Constancio 
Melendo Pérez 
Susana 
Meneu 
Ricard 
Mintegi 
Santiago 
Mir 
Marina 

Modesto i Alapont

 

Vicent

 
Montejo Fernández 
Marta 
Montero Manzano 
Esther 
Morales Ballus 
Marta 
Morales Martínez 
Antonio 
Morales Olivas 
Francisco J. 
Moreno 
Luis A. 
Moreno Pérez 
David 
Muñoz Codoceo 
Rosa Ana 
Muñoz Hoyos 
Antonio 
Murias Loza 
Sara 
Narbona López 
Eduardo 

Navarro

 

Sergi

 
Navarro Moreno 
Constanza 

Navas López

 

Víctor Manuel

 
Negre Policarpo 
Sergio 
Nistal Villan 
Estanislao 

Núñez Cuadros

 

Esmeralda

 
Núñez Batalla 
Faustino 
Ocete Hita 
Esther 

Ochoa Sangrador

 

Carlos

 
Orejón de Luna 
Gloria 
Ortiz Movilla 
Roberto 

Ortiz Marrón

 

Honorato

 

Oulego Erroz

 

Ignacio

 
Palacios 
Alba 
Pallas Alonso 
Carmen-Rosa 

Palomo

 

Enrique

 
Palomo Moraleda 
María del Pilar 

Parente

 

Alberto

 
Parraga 
María José 
Parrilla Parrilla 
Julio 
Pastor Tudela 
Ana Isabel 
Pastor Vivero 
María Dolores 
Peiro 
Salvador 
Peláez 
María José 

Peláez Mata

 

David

 
Peña Caballero 
Manuela 
Pérez Casares 
Alex 
Pérez Frías 
Javier 
Pérez Hernández 
Rosalía 
Pérez Méndez 
Carlos 
Pérez Navero 
Juan Luis 
Pérez Solís 
David 
Pérez Lescure 
Javier 
Pérez Martínez 
Antonio 
Pérez Munuzuri 
Alejandro 
Pérez Yarza 
Eduardo G. 
Pineda Solas 
Valenti 

Piñeiro Pérez

 

Roi

 
Pombo 
Manuel 
Porta Ribera 
Roser 
Prada Arias 
Marcos 

Praena Crespo

 

Manuel

 
Prieto 
Luis Manuel 
Puigdollers 
Andreu 
Quintero 
Jesús 
Rafael 
Pardo 
Ramírez Villar 
Gema 
Ramos Fernández 
José Miguel 
Reina 
Jordi 
Remacha 
Ángel 
Rey 
Corsino 
Reyes 
Susana Beatriz 

Riaño Galán

 

Isolina

 
Ribas 
David 
Ribes Koninckx 
Carmen 
Rico Díaz 
Javier 
Rite Gracia 
Segundo 
Rochateixeira 
Sofía 
Rodrigo Jiménez 
María Dolores 
Rodríguez 
Julián 
Rodríguez Arranz 
Cristina 
Rodríguez Blanco 
Silvia 
Rodríguez Fernández 
Rosa 
Rodríguez Núñez 
Antonio 
Rodríguez Serrano 
Raúl 
Rodríguez Artalejo 
Fernando 
Rodríguez Dehli 
Cristina 
Rodríguez González 
Moisés 
Rodríguez Vigil Iturrate 
Carmen 
Romaguera 
Dora 
Román 
Enriqueta 
Royo Bordonada 
Miguel Ángel 
Ruiz Contreras 
Jesús 
Saavedra 
Jesús 
Sáenz 
Pilar 
Salvador Hernández 
Héctor 
Samper 
Pilar 
Sánchez 
Josep 
Sánchez Andrés 
Antonio 
Sánchez Bayle 
Marciano 
Sánchez Luna 
Manuel 
Sánchez Ruiz 
Prado 
Sánchez Torres 
Ana 
Sánchez Bernal 
Javier 
Sánchez Queija 
Inmaculada 
Sánchez Solís 
Manuel 
Santos 
Mar 
Santos Simarro 
Fernando 
Santos Juanes 
Jorge 

Santos Pérez

 

Juan Luis

 
Sanz Santaeufemia 
Francisco José 
Sebastiani 
Georgia 
Segado Arenas 
Antonio 
Sequi Canet 
José Miguel 
Serra Sutton 
Vicky 

Siguero

 

Juan Pedro

 
Solana 
María José 
Solana Gracia 
Ruth 

Solís

 

Gonzalo

 
Storch de Gracia 
Pilar 
Suárez Gil 
Patricio 
Surribas Murillo 
Concepción 
Tejero Hernández 
María Ángeles 
Teresa 
Muñoz 
Tornero Patricio 
Sebastián 
Torres Guerola 
Bárbara 
Torres Borrego 
Javier 
Tort 
Frederic 
Úbeda Sansano 
María Isabel 
Varea Calderón 
Vicente 
Vargas Torcal 
Fernando 
Vázquez Fernández 
Marta Esther 

Vázquez Martínez

 

José Luis

 
Vázquez Rueda 
Fernando 
Velasco 
Roberto 
Viadero Ubierna 
María Teresa 
Vicente Villa 
Asunción 
Vidal 
Mariona 
Villamor 
Eduardo 
Villaronga 
Miquel 

Vivanco

 

Ana

 
Yagüe Torcal 
Francisca 
Yeste 
Diego 
Authors
It is very gratifying to observe the increase in submissions to our journal. We think that this reflects the interest that the journal is generating among publishing paediatric researchers. This leads to a high percentage of rejections and considerable responsibility in the selection process. The Editorial Committee, guided by the assessment provided by peer reviewers, attempts to select the best articles, but as we do every year, we acknowledge the possibility that errors may be made during the evaluation process. We do our best to keep them to a minimum.
Awards
The annual award Anales de Pediatría 2021 to the best article published by the journal in 2020 was given to "María José Sánchez-Soler, Vanesa López-González, María Juliana Ballesta-Martínez, Jorge Gálvez-Pradillo, Rosario Domingo-Martínez, Virginia Pérez Fernández and Encarna Guillén-Navarro. Evaluación del desarrollo psicomotor hasta los 3 años de edad de niños españoles concebidos por técnicas de reproducción asistida (FIV/ICSI): estudio prospectivo de cohorte controlado. An Pediatr (Barc) 2020; 92(4):200−207".
The award to the article that has contributed the most to the impact factor of Anales de Pediatría in the last two years (2019 and 2020) was given to 2 articles that achieved the same number of citations:
Marta Carballal Marino, Ana Gago Ageitos, Josefa Ares Álvarez, Mercedes del Río Garma, Clara García Cendón, Ana Goicoechea Castano and Josefina Pena Nieto, on behalf of the Working Group on Child Psychiatry of the Asociación Galega de Pediatría de Atención Primaria (AGAPap). Prevalencia de trastornos del neurodesarrollo, comportamiento y aprendizaje en Atención Primaria. An Pediatr (Barc) 2018; 89 (3): 153–161.
María Pichel López, Santiago Martínez-Isasi, Roberto Barcala-Furelos, Felipe Fernández-Méndez, David Vázquez Santamarina, Luis Sánchez-Santos and Antonio Rodríguez-Núñez, on behalf of the Working Group of the ANXOS Project. Un primer paso en la enseñanza del soporte vital básico en las escuelas: la formación de los profesores. An Pediatr (Barc) 2018; 89 (5): 265–271.
We offer our congratulations to the authors of these articles.
Asociación Española de Pediatría
In the 4 years that this Editorial Committee has been responsible for the management of Anales de Pediatría, we have periodically expressed our thankfulness to the Board of Directors of the AEP for their unconditional support to our work. Despite the considerable economic investment required to offer open access to the journal and its simultaneous publication in English and Spanish, both of these strategies have been maintained. We believe that this editorial policy is key to continue to increase the international dissemination of Anales de Pediatría.
To make sure that we do not fall short in our acknowledgments, we want to devote this last paragraph to thank all individuals that have contributed to the development of the journal through their work.
Please cite this article as: Rey Galán C, Alsina Manrique de Lara L, Antón Gamero M, Cano Garcinuño A, Solís Sánchez G. Informe anual de los editores de Anales de Pediatría. 2021. An Pediatr (Barc). 2021;94:349–356.
Copyright © 2021. Asociación Española de Pediatría